Novell Netware Issues
ODBC cannot connect to SQL Server via IP address
Netware Client 4.83 Service Pack 1 contains a fault which prevents ODBC (and therefore Cadzow 2000) seeing a SQL Server database on a server when addressed via an IP address.
Solution: Access the database via a Netbios Name (eg \\SERVER) or obtain the post-SP1 fix from Novell.
Frame Type
An issue (lack of connectivity) has been observed with certain versions of the Netware Client where the Frame Type is set to Auto Detect. The solution is to manually set the Frame Type to Ethernet 802.2 and reboot: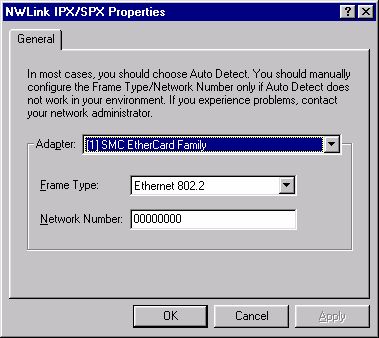 Upgrading the client may also resolve this issue. You need not modify the default settings unless you have connectivity problems.
Cadzow 2000 Generates Error 1106
During some program operations, especially reports, the program halts with an Error 1106.
An issue exists within Novell Netware 3.11 and 3.12 which relates to share locking and which mostly occurs when large volumes of data are read and written from the file server, such as during some highly complex reports or import operations.
A patch for Netware 3.11 and 3.12 has been published which corrects this behaviour.
Novell have also published the Netware 3.2 Enhancement Pack which allows Netware 3.12 servers to be upgraded very easily. The Enhancement Pack may be purchased from your Novell dealer.
Information on installing the patch or the Enhancement Pack is not provided in this Article as modifying the configuration of a Netware server requires intimate knowledge of Netware and should be performed only by a competent professional. Please consult your service provider or Information Technology staff to apply this patch.