Sharing Your Printer
To share a printer:
Choose Start → Control Panel → Printers.
Click the icon for the printer you want to share.
Right-click the printer for which you want to change settings, and then click Properties.

(You can change printer settings only if you have the Manage Printers permission. For more information about printing security permissions, see Windows Online help.)

Click the Sharing tab, and then click Shared As. Accept the default share name or enter a new one. Then click OK.

(If the Sharing tab is not visible, you need to enable file and print sharing services.)

The shared printer will then display with a hand underneath it.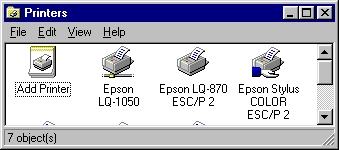 You can only share a printer that is connected to your computer.