Setting up Organisations - Main Details
For general information on setting up organisations, please read Article #1160.
The MAIN DETAILS, such as organisation name, are set up on this screen.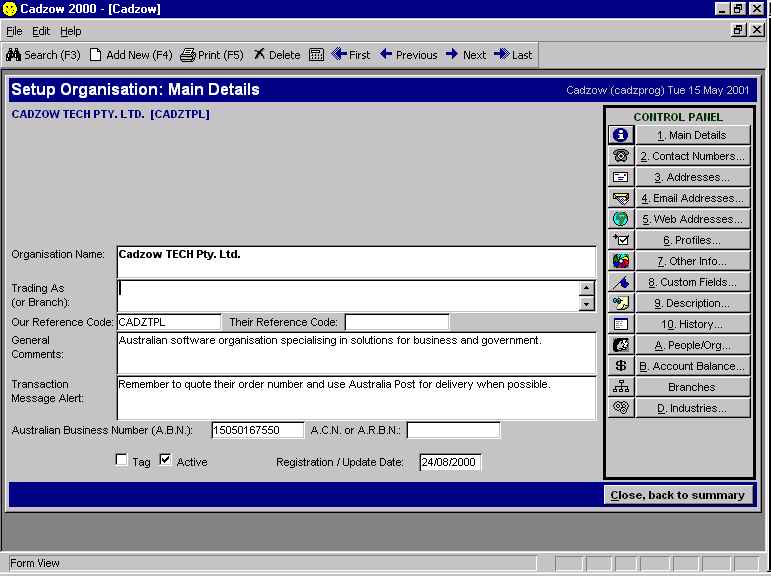 Organisation Name: Formal name of the organisation.
Trading As (or Branch): If this organisation as an alternative name, type it here.
Our Reference Code: Compulsory. When setting up a new organisation, the system will try to guess a code for you. It uses the first four letters of the first word in the organisation, followed by initials of the other words. For example, Smith Plumbers would result in the code SMITP. You can then modify this code to suit your own purposes.
Their Reference Code: If this organisation has a reference code they always want quoted on invoices (etc), then enter it here. For example, some government departments might give you a supplier reference code they always want you to put on invoices.
General Comments: Type any other comments here.
Transaction Message Alert (if you are using Accounts Receivable or Payable): Should you enter a message here, whenever a transaction (invoice, purchase etc) is made against this organisation, then this message will be displayed. This is a very useful feature as it reminds the user when entering an invoice (or other transaction).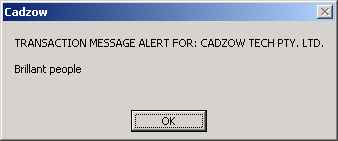 Australian Business Number (A.B.N.): Enter the ABN here . The number will be checked using a validation algorithm from the Australian Taxation Office to ensure that the number entered is at least legitimate.

ACN or ARBN: Enter the organisation's Australian Company Number or Australian Registered Body Number. If you would like to check ABN details on a government developed website, visit Article #1120.
Tag: Tick if this organisation is tagged.
Active: Whether or not the organisation is still active.
Registration/Update Date: The date that this organisation was "registered". You can interpret what this means depending upon what you want to do with the software. Some users choose for this to represent when the organisation's details were first registered. Other users, especially those choosing Cadzow to track their membership lists use this as a future date to represent when the membership expires.