Welcome Message: Turning it on (or off)
When the Cadzow software is opened, you can greet all users with a welcome message. This is useful if you want to tell all the users something.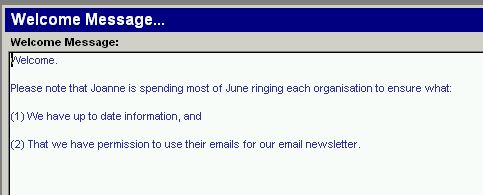 To set the Welcome Message:
From the MAIN MENU, click on the CONTACT MANAGER or PEOPLE MANAGER (it may be already selected).
Click MISCELLANEOUS SETTINGS.
Enter your message. The message will be saved automatically when you leave this screen.
To activate it tick the box. If you have ticked the "Do you want…" box, next time a user opens Cadzow they will be presented with the welcome message.
Show Welcome Message (again)
Sometimes you might want to read the welcome message without having to exit the software and opening it again.
From the HELP MENU, click SHOW WELCOME MESSAGE.