Cadzow Time Manager
Our aim was to create a very powerful, but simple, time management package. It manages your office's time and expenses. Able to track time spent on client's jobs in addition to internal jobs.
Written for the professions that are time based (eg. accounting, solicitors, consultants) in addition to businesses that want to analyse their productivity.
Time Entry Input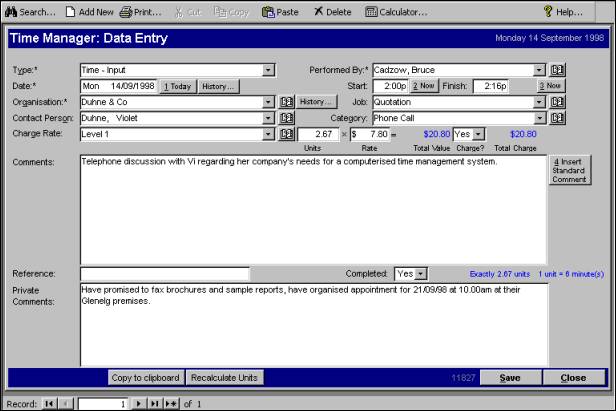 Tracks times, disbursements, fixed costs, write ups, write downs.
Able to collate to a client, a job, an employee, a client contact person and assign a chargeable rate etc.
Ability to round up to nearest "unit" (eg. 6 minutes).
Setup
Categories (eg. Admin, Email, Photocopying, Research)
Disbursements, Fixed Costs, Employees
Standard comments to be used in the time entries (eg. "TO OUR PROFESSIONAL CHARGES herein relative to taking instructions, drafting and preparing Enduring Powers of Guardianship on your behalf and generally acting in and about the above matter, at scale")
Tracks Work in Progress
Ability to produce summary or itemised invoices.
Print out summary and detailed WIP reports.
You can specify global wording for the invoices as well as extra comments for a particular invoice.
Excellent management/productivity reports
Strong Ad Hoc Enquiries feature with a wide range of reports.
Ability to choose the amount of detail on reports.
Statistical reports on employee's hours/charges. Assists your analysis of productivity.
Work In Progress reports. The ability to mark off and invoice tasks.
Miscellaneous
Blank fax, letterhead, compliments stationery and time sheets.