Cadzow Room Manager
Cadzow Room Manager was initially developed for one of South Australian's major educational facilities, with over 120 lecture rooms to be tracked - however it is suitable for any organisation which need to manage the booking of rooms.
As a ready made module, it can easily and quickly be deployed. There are many reports, including room door sheets, usage reports, confirmation and cancellation statistics etc.
Example 1: Find available rooms (say we wanted to view ALL rooms, for Mondays, weeks 7 to 12, so that we can find out which rooms are available 3pm-6pm). Full dots means the room is fully booked for the Mondays between weeks 7 to 12, hollow dots means the room is partially booked (eg. weeks 9 to 11).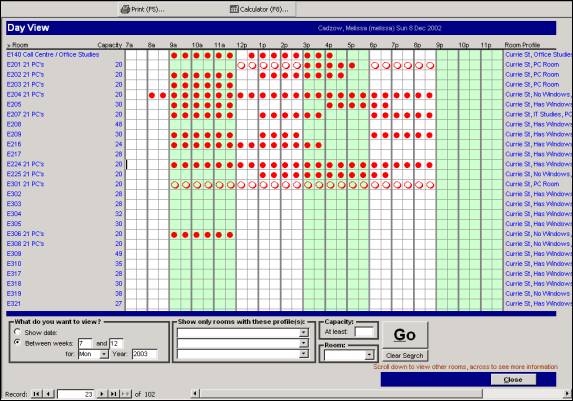 Example 2: We could take the above search further and limit it to rooms with windows and EVAC lights:


Example 3: Find available rooms for 12/06/2003, show all rooms with capacity of at least 50: