Connecting to a Terminal Services server (using the web-based client)
The advantage of using a web-based Terminal Services client is that it can be placed in a public location and accessed via a web browser. This is useful if you do not have your own computer and are using, say, an Internet Cafe or someone else's computer.
(By default the web control connects via port 3389, but if you are using a non-standard port the client can be reconfigured using the instructions at http://support.microsoft.com/kb/326945.)
Note: if using Internet Explorer 7.0 on Windows XP Service Pack 3, the Remote Desktop ActiveX control needs to be manually enabled.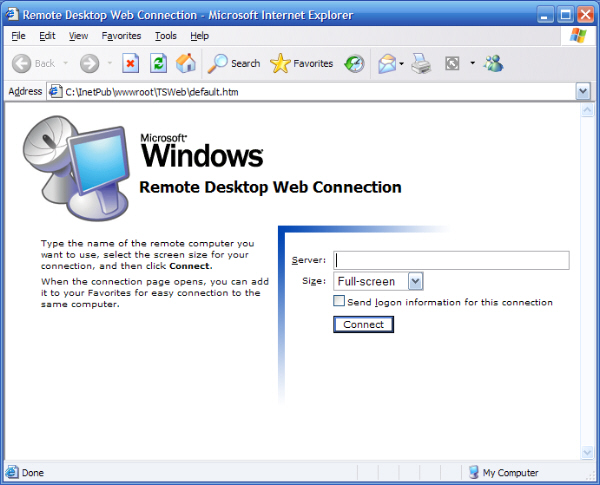 Browse to the link provided by your IT administrator.
The first time you visit this page (or if there has been a software update), your web browser will download the ActiveX control (which takes a few moments) and then ask your permission to install it: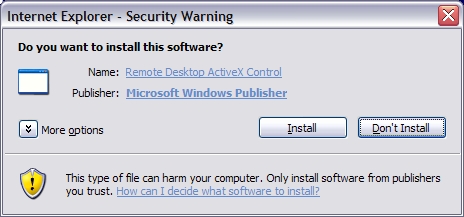 The dialog you receive on your system may vary depending on the version of the web browser and the operating system. Note the ActiveX control is digitally "signed". This indicates the publisher (in this Microsoft) certifies the content is safe to install.
Choose Install or Yes (as the case may be) to install the control.
When the control is installed, you may then enter the server address (which could be an IP address similar in format to 192.168.0.67) or a Netbios name such as SERVER and choose whether to run the session at a particular resolution (640 × 480, 800 × 600 and so on) or full screen.
Enter the server address, choose Full Screen and click Connect.
Enter your login credentials for the remote system.