How do I track Search Requests? (previously called 'Nominations')
Some clients use the Cadzow People Manager to track what jobs (or boards/committees/councils) a person has been nominated to. Then, optionally, who was successful.
Previously Cadzow's Search Request feature was called "Nominations".
For example, say you are nominating 4 people to the board of the NSW Housing Association Inc.
First, set up the details of the Search Request
From the MAIN MENU, in the SETUP MENU choose SEARCH REQUESTS.
If you are adding a new SEARCH REQUEST, click the ADD NEW button.
Specify at least: DATE (typically the date you were asked to nominate people), NOMINATION (eg. NSW Housing Association Inc). The other fields are optional, use them if you feel you have a need.
Then teach the software which people have been nominated
You can assign a group of people:
Use ENQUIRIES to find the people you want.
At step 2 of ENQUIRIES, use the SEARCH REQUESTS section to quicly assign all the people to a particular Search Request.
Or you can assign people one by one:
Load the person you are nominating (MAIN MENU / PEOPLE MANAGER / SETUP PEOPLE, then SEARCH).
From the CONTROL PANEL on the right, choose OTHER INFORMATION.
Find the SEARCH REQUESTS section.
Move to the blank line at the base of this list, in the NOMINATION field, choose the SEARCH REQUEST applicable (eg. NSW Housing Association for 04/11/2004). Scroll to the right and tick the NOMINATED field. (If this you want to track who was successful, then you would later tick the SUCCESSFUL field so that statistics can be automatically generated).
Repeat these steps for any other people you are nominating.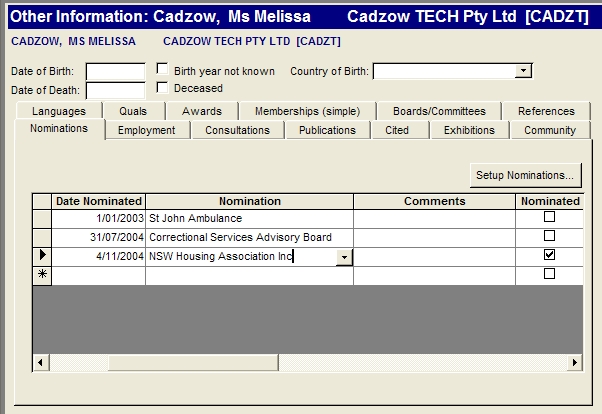 Nomination Reports
From the MAIN MENU, under PEOPLE MANAGER, choose NOMINATION SEARCHES & REPORTS.
This screen allows you to search for the nomination you want, for example:
Show all nominations for the NSW Housing Association Inc.
Show all nominations for John Smith.
Show all successful nominations between June 1 and October 31 in 2004.
Then you can print either a summary or a detailed report.