How to find transaction totals for my clients between two dates?
From the MAIN MENU, choose ACCOUNTS RECEIVABLE.
Choose ENQUIRIES.
Specify the DATE RANGE you are interested in (eg. 01/07/2001 to 21/12/2004).
If you want to limit this to your clients (ie. Not suppliers), choose TYPE = ALL ACCOUNTS RECEIVABLE TRANSACTIONS. (Note: you probably don't want to limit this to just invoices, as some of the clients might have been issued credit notes).
Set any other criteria that interests you (eg. Under ADVANCED II you might want to limit the search to only clients with a particular profile - such as 'wholesale').
Choose NEXT STEP. This gives you a list of all matching transactions.
Near the top of the screen, choose STATISTICAL REPORTS.
Choose GENERAL STATISTICS - TRANSACTION TYPE, BY CLIENTS (DOLLARS).
Decide whether you want to print the REPORT CRITERIA (handy for reference) - tick or untick the relevant box.
Choose PRINT/PREVIEW.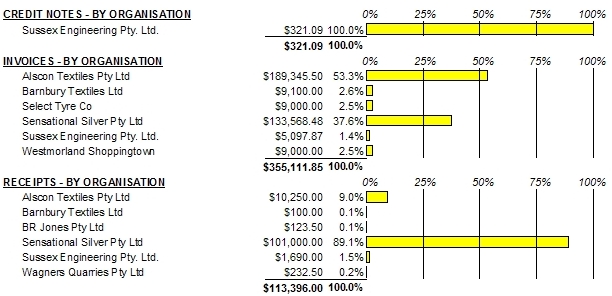 Alternatively, if you have Microsoft Excel on your computer, you could export the transaction details to Excel and them sort and sum the transactions in whatever manner you desire. Do steps 1 to 6 above, then choose EXPORT, EXPORT - TRANSACTIONS (BASIC DETAILS), click EXPORT INFORMATION button, specify a filename (or leave as is), then choose EXPORT NOW.