Creating Letters
There are two ways of generating letters using people/organisations from Cadzow.
Please note that Cadzow version 12.02.004 or higher is required.
Option 1: Simple Letters
The software can help you in creating simple letters and emails. If you are using the same wording over and over again, then you can set up you letter as a master template. Which can be used for writing a letter (or email) to a single person or many people, with each letter being personalised (eg. Dear John, Dear Mary etc).
We purposefully kept this to handling simple letters of plain text (along with your standard letterhead and the option of including a scanned signature).
These letters can be printed without the need of a word processing package (such as Microsoft Word). Nor are advanced Mail Merge skills required, so it's great for management. It's purposefully a quick and easy solution. They are plain letters (no bullets, no tables, no pictures, no formatting etc).
For details, please click here.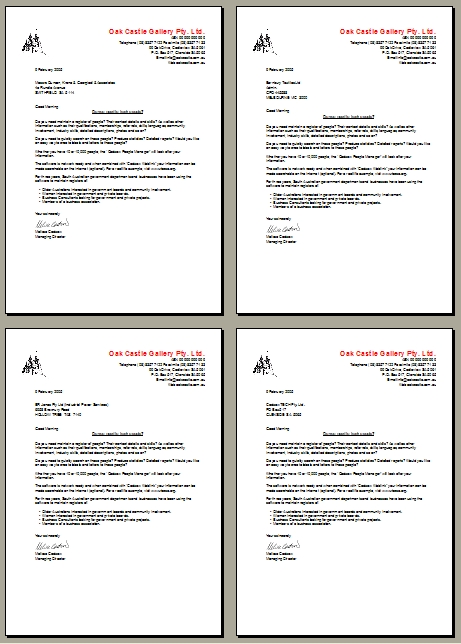 Option 2: Export to a Microsoft Word file for a mail merge
However, if you do want greater control over your letters, say formatting (bold, underline, bullets etc), tables, footers, photos etc), then there's another way.You can export the contact details (name, address etc) to then be used in Microsoft Word for mail merges.
For details, please click here.