Email Basics: Sending and Receiving Emails
This article concentrates on the basic skills for Microsoft's two main email software packages (Microsoft Outlook or Microsoft Outlook Express).
Email Folders
New email messages to you will appear in your "Inbox" folder. Email messages you have sent will appear in your "Sent Items" folder. Emails waiting to be sent can be found in your "Outbox".
Sending an Email Message using Outlook Express
Open Outlook Express.
Choose the Create Mail button (or press Ctrl-N).
Specify to whom you wish to send the message; either by clicking the TO button or entering the email addresses directly.

Note you can also start a message by double-clicking the recipient in the Contacts list.

Give the email a subject (something short and meaningful).
Write up the body of the message email.
Click the Send button or press Alt-S.
Depending on how your computer uses the internet, email may send itself out automatically, or it may pile up in your "Outbox" waiting for your command to deliver it. If it is still sitting in your Outbox, click the Send/Recv button or press F5.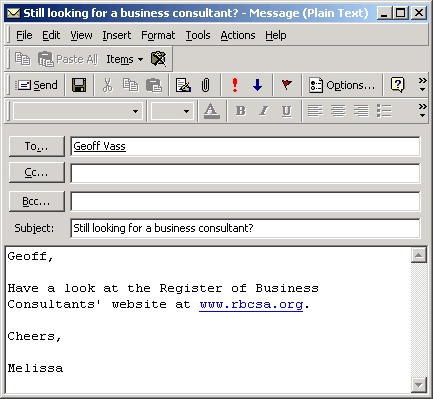 Checking For Incoming Mail
Outlook Express will check for new incoming email every 30 minutes. If you wish to check more frequently, this setting can be changed using Tools, Options.
To check for messages on demand, click the Send/Recv button or press F5.