Cadzow 2000 Launches and Immediately Closes
When you launch Cadzow 2000, it may immediately close.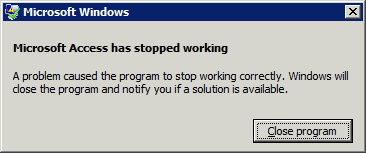 This can occur if 32- or 64-bit editions of Windows XP Service Pack 2 or Windows 2003/Vista/2008 or later Data Execution Prevention (DEP) has detected a suspicious instruction (of the type associated with buffer overflows) and shut it down.
This seems to occur only with hardware-enforced DEP, which requires processor support and certain configuration options. It does not appear to happen with software-enforced DEP.
To resolve:
You will most likely be prompted with a message:

Data Execution Prevention
To help protect your computer, Windows has closed this program.
Name: Microsoft Access
Publisher: Microsoft Corporation

Choose Change Settings.
Under Turn on DEP for all programs and services except those I select, click to enable Microsoft Access.
Choose OK.
Choose Close Message.
Another method is:
Click Start.
Windows XP/2003 only: Choose Run.
Type SYSDM.CPL.

The System applet should appear.

Choose the Advanced tab.
Click Performance / Settings.
Choose the Data Execution Prevention tab.
Click Add.
Add MSACCESS.EXE from the relevant folder. For example, if using the Microsoft Access 97 Runtime, the default path is:

C:\Program Files\Access97\Runtime\Office\MSACCESS.EXE

It may also be under:

C:\Program Files (x86)\Access97\Runtime\Office\MSACCESS.EXE

Cick OK to close the Performance Options dialog.
If adding the specific instance of MSACCESS.EXE does not work, simply disable DEP for all third-party applications by selecting Turn on DEP for essential Windows programs and services only.