Profiles
General Information
You can use profiles to track many extra pieces of information, then use this information in Enquiries searching and reporting.
Profiles can be set against:
Organisations (in the Cadzow Contact Manager)
People (in the Cadzow People Manager)
People/Organisation (in the Cadzow People Manager)
Rooms (in the Cadzow Room Manager)
For example, a particular client may constantly be booking attendees into your Underwater Knitting Course, but you can see a need for Sky Diving Courses. Using Profiles you can mark down this interest, so that later when you do a direct mail marketing promotion you can print labels for all clients interested in Sky Diving.
Profile Statistics
From the Cadzow 2000 Main Menu, choose Contact Manager.
Choose Enquiries — Contacts.
Choose Next Step.
Choose Reports.
Tick Profile Statistics.
Choose Print/Preview.
Note: As you can assign multiple profiles to an organisation/person, there will be multiple occurences in the report.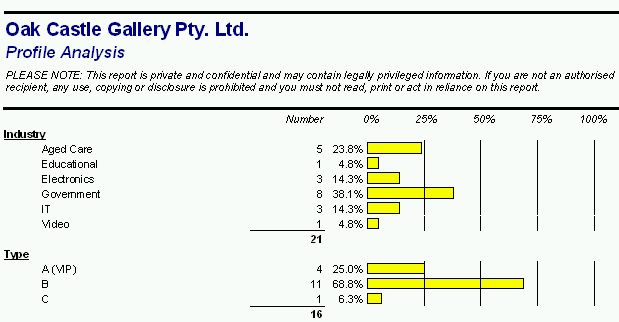 Cadzow Content Manager / Weblink
When profiles are used for our online internet solutions, there are some additional settings:
Help Message: You can set one help message for each Profile Group. It will be used to display a help message in the web browser when the online user is setting profiles. If more than one help message is set for a Profile Group, then they will be ignored.
Web Limit Group: You can set a limit of the number of profiles that can be assigned to a particular Profile Group. You should only set one per Profile Group. For example, say you have a Profile Group called "Expertise Areas" with 20 profiles against it. You could then limit the user to choosing a maximum of 3.
Related information