Various Kyocera Issues
Default Passwords
Many Kyocera printer models have passwords for various functions.
Console username/password: 2600/2600 or 2100/2100
Web-based Command Centre: admin00
Command Centre RX: Admin/Admin (both case-sensitive)
Newer Command Centre RX: Admin/<serial number>
Error 2202
When scanning to email you may receive error 2202. Assuming the settings for outgoing email are correct, this may be due to upstream congestion which can be relieved by increasing the sending timeout in the printer (default 10 seconds). Try 30 seconds, or up to 180 seconds.
Error 0x4803
This may occur due to SSL problems with the upstream SMTP host.
Under Security Settings → Network Security, uncheck SSL3 and ARCFOUR under Client Side Settings.
Also try unchecking the various instances of SHA1 hashing and ensure TLS 1.1 and TLS 1.2 are ticked
Error 0x1102
When using a Microsoft 365 mailbox to send scans, you may receive error 0x1102. This could be due to Authenticated SMTP being disabled on the user and/or tenancy.
Open the Microsoft 365 console, click on the user. Go to the Mail tab, click Manage email apps and ensure Authenticated SMTP is enabled.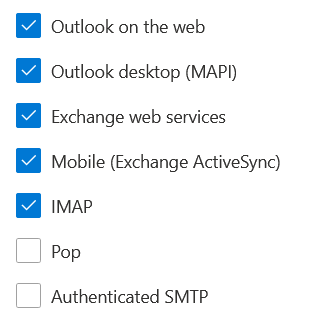 Also use PowerShell to set:
Set-TransportConfig -SmtpClientAuthenticationDisabled $false