Hewlett Packard — Factory Reset
Some Hewlett Packard desktops/notebooks ship with recovery media (CD/DVD) which can be used to restore the system to the factory configuration.
If the system does not automatically boot from the media, turn the machine on and press F9 as soon as the display switches on. This will give you the boot menu where you can select the optical disc as the boot device.
If the system did not ship with recovery media, the recovery image is stored on a hidden partition on the system's hard disk drive. To activate this, turn the machine on, and press F11 when the initial splash (POST; power-on self-test) screen appears. This will activate the recovery process.
If the POST screen does not offer an option for F11, press F10 to enter BIOS Setup. Then go to Advanced → Power-On Options. Ensure that F11 Prompt is set to Displayed, and Factory Recovery Boot Support is set to Enable. Also change the POST Delay to 20, which provides more time at startup. Press F10 to exit the dialog, save the settings and reboot.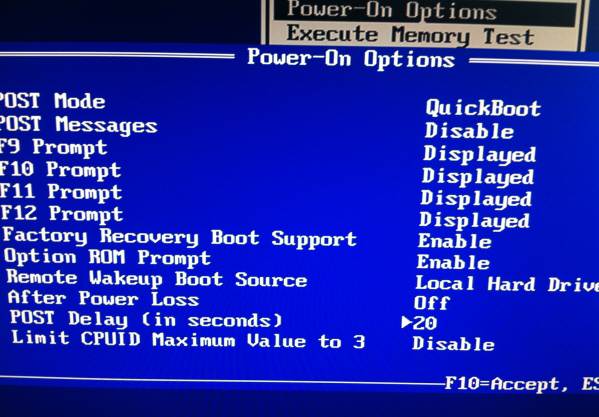 Note that the recovery process destroys all existing data on the drive, resets the partitions, reformats and installs a fresh instance of the operating system. Performing a factory reset is an option of last resort when solving problems, and usually is only a suitable option when dealing with an egregious registry corruption problem, uncleanable rootkits or replacement hard disk drives. It is also used when re-commissioning a machine for sale or passing to another user.