SBS 2008 Backup Issues
Microsoft Windows Small Business Server (SBS) 2008 may encounter several issues when attempting to backup.
Backup Fails Before Starting
This may occur if a volume snapshot cannot be taken within the default timeout period (10 minutes). This may be worked around by extending the timeout period for the volume snapshot to complete in:
Open an elevated command prompt and type:
reg add "HKLM\SOFTWARE\Microsoft\Windows NT\CurrentVersion\SPP" /v CreateTimeout /d 1200000 /t REG_DWORD /f
A reboot is not required.
In this example, "1200000" is 20 minutes in milliseconds. Increase if required.
Backup Seems Frozen or Pauses For A Long Time
The backup user interface in the SBS Console does not provide much feedback as to what the backup process is doing, but the Windows Server Backup program does. If the SBS Console shows the backup as "In progress" for too long, cancel it and try running it from Windows Server Backup. If the progress dialog shows "Running Consistency Check for Application Exchange", it may be because the Exchange stores have a large number of log files (say, more than about 2,000).
In this situation, use Exchange Management Console to enable circular logging on the mail stores. Exchange will eventually remove all the old log files, but if you wish for this process to happen more quickly, dismount and mount each store. Note that the mounting process will take longer if there are a lot of log files — be patient. After this, the consistency check should run more quickly, perhaps only a few minutes. Once the backup is confirmed as running successfully, circular logging may be turned off, if desired.
If there is something wrong with the store, manual intervention may be required.
Long Pauses, Backup Failures
The SBS Console can be quite slow when using the various options under Backup and Server Storage, but if each operation is extremely slow, and if the backup keeps failing when using a particular external disk, try removing it from the backup schedule under Backup Destinations. The drive will then be assigned a drive letter (usually A:) and be visible to Explorer. Open an elevated command prompt and run chkdsk A: /F, then chkdsk A: /R (which will take a long time).
If chkdsk refuses to run, use Computer Management to delete the partition, re-create the partition and reformat. If this process fails, the drive is bad. (Note this process will destroy the backup already stored on the drive.) If you need to recover the contents of the backup drive, immediately take it to a data recovery specialist.
If chkdsk repairs errors, it may be possible to add the drive back to the schedule as-is. This process does not destroy the backup already stored on the disk. However if chkdsk detects surface defects, the backup stored on the disk will now be damaged and most likely will not restore or be useable as a backup. In this instance the safest course of action is to replace the drive. But if there's an emergency situation (say, where a backup on a potentially unreliable drive is better than no backup at all), delete the partition before adding it back to the schedule. SBS will reformat the drive and perform a full backup to the drive the next time the drive is used. But be sure to install a reliable new drive as soon as possible.
Backup Log Shows Spurious Failures
The Windows SBS Console may show failures in the Backup History, where multiple backups are launched simultaneously but only one succeeds. The Status appears as "Failed" with a Description of "Server Backup did not finish successfully on <Date> <Time>. See the Event Log for details":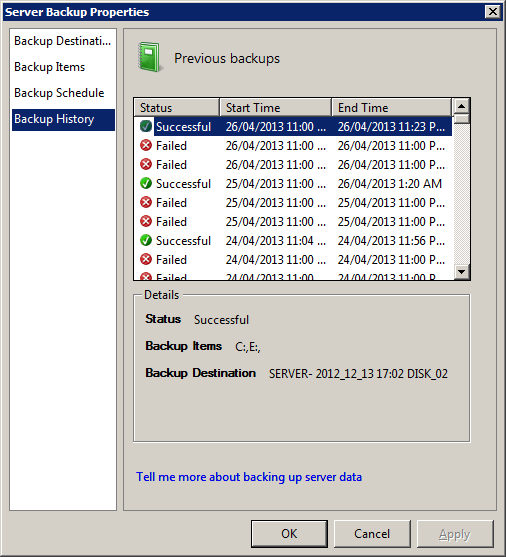 The Event Log contains an error or errors with:
| | |
| --- | --- |
| Log Name: | Application |
| Source: | Backup |
| Event ID: | 518 |
| Level: | Error |
| User: | SYSTEM |
| Description: | Backup started at '<Date> <Time>' failed as another backup or recovery is in progress. Please re-run backup. |
Although this condition appears to be harmless because one of the backup jobs will complete normally, to remedy the multiple instances and the corresponding failure notifications:
Open Task Scheduler.
Navigate to Task Scheduler Library → Microsoft → Windows → Backup.
Right-click on Microsoft-Windows-WindowsBackup and choose Properties.
Under the Settings tab, change "Run a new instance in parallel" to "Do not start a new instance".
This needs to be done every time the Backup is reconfigured using the wizard in the SBS Console.