Windows 10
The big Windows news for 2015 will be Windows 10. (There was never a "Windows 9"; you didn't miss anything.)
But the even bigger news is that Windows 10 will be a free upgrade for not only Windows 8.0 & 8.1 users but Windows 7 also. This is a huge departure for Microsoft, who didn't even see fit to reward Windows Vista users for their suffering with a free Windows 7 upgrade.
The free period is only 12 months so there is a need to act relatively quickly.
Should I Upgrade?
Windows 8.x is a natural candidate for the upgrade as Windows 10 is, in some respects, "Windows 8.2" and Microsoft has had plenty of practice distributing operating system upgrades as Internet downloads with the upgrade of Windows 8.0 to Windows 8.1.
What to do with Windows 7 is less obvious. Those machines are typically older, and they might be running Windows 7 for a reason. Still, we've found that anything that runs on Windows 7 has run on Windows 8 so there should not be too many compatibility issues.
So, broadly the answer is Yes, as long as it's approached with care (see "Upgrade Preparation" below).
Cadzow TECH's managed clients will have most, if not all, of their Windows 8.x systems upgraded to Windows 10 as a matter of course. The suitability of upgrading Windows 7 systems will be assessed case-by-case.
If you are not a managed client of Cadzow TECH, and plan to upgrade your Windows 7/8 systems when Windows 10 is offered, have a chat with us first.
Left to their own devices, many Windows 7/8 systems will eventully upgrade by themselves, but this can be prevented.
Pros & Cons
The upgrade offers some advantages besides being newer software:
Users of Windows 7 Home Basic will receive Windows 10 Home, which is functionally better than Windows 7 Home Premium.
Windows 7 Professional will upgrade to Windows 10 Pro, which is similar to Windows 7 Ultimate. Of particular interest for Windows 7 Professional users will be access to BitLocker, which was only available in Windows 7 Ultimate and typically required an upgrade fee. Since Windows 8, BitLocker has been included in the Pro edition, which is the default edition for business machines and thus doesn't require any additional fees.
The entry-level Windows 8.1 with Bing will upgrade to Windows 10 Home.
Other benefits to Windows 8.x users are not as pronounced, besides being a natural upgrade path.
The upgrade won't be completely seamless for anybody using Windows Media Centre, which was included in Windows 7 Home Premium/Ultimate or with the Windows 8.x Media Center Pack, and used mainly to record television broadcasts via a tuner. Windows Media Centre has been deprecated from Windows 10 and will be removed.
Another issue which may cause some glitchy behaviour is that Windows 10 is the first edition of Windows to have a two-digit internal build number (10.x), and which sorts alphabetically before previous editions. For example, Windows XP's build number is 5.1, Windows 8.1 is 6.3. So while 10.0 > 6.3 numerically, "10.0" < "6.3" alphabetically. This means any applications which do not perform this checking properly may believe Windows 10 is too old and refuse to run.
Upgrade Preparation
The upgrade process itself has proven to be reliable. But systems about to be upgraded should be healthy, patched up-to-date, free of malware and with plenty of space. So a general cleanup and check of a system is important before starting.
Businesses should check with software vendors that their line-of-business applications are supported under Windows 10. But generally, anything that is running reliably under Windows 8.x will operate under Windows 10.
Most systems will download the required files in the background, so the upgrade process can start as soon as you have a prompt that it's ready. But it will take a number of hours, and is perhaps best left for overnight. By the morning the system will be ready to log into.
However if the process has failed badly and left the system in an unusable state, the remedy may be long and complicated so you should not activate the upgrade if you have urgent work to do the following day, or leaving on a trip etc. Plan it for a suitable period.
Also, consider your appetite for change. Perhaps you have an Windows 7 system that is working and you don't see any point in a big change — fair enough. (But, bear in mind your next machine will almost certainly be Windows 10.) Windows 8.x users will not have the same interface change so this is less of an issue.
Upgrade Process
As of June 2015, Windows 7/8 systems that are fully up to date will start to display a taskbar icon: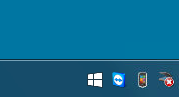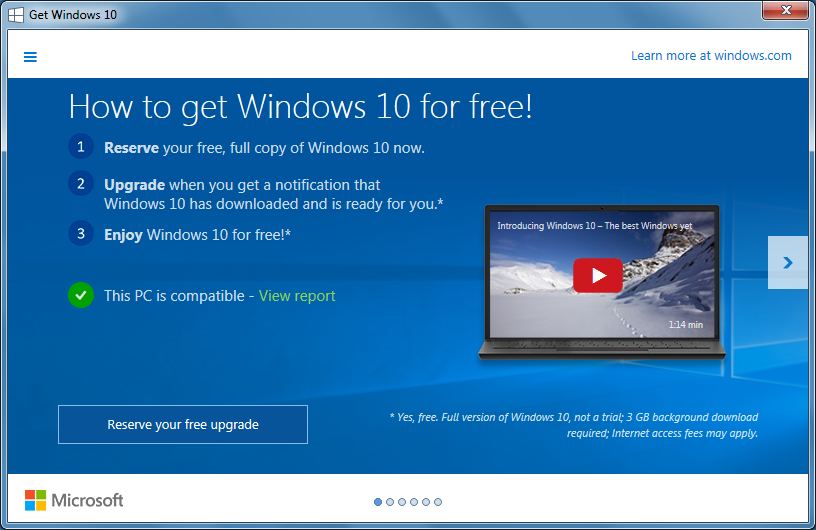 This is just a mechanism to "reserve" a copy of Windows 10. If you choose to accept it, the update will download when available, and then you'll have a choice about whether to install it. The downloads started around the end of July 2015, and when ready will display: