Zoom: Security & Privacy Tips
Zoom is a popular, widely used videoconference platform. After some controversy about security in early 2020, highlighted after the surge in demand due to the Covid-19 pandemic, Zoom committed to a process of improving the security in the product. These improvements should roll out to users automatically.
However, there are still some things organisers and users can do to maximise the security of their meetings.
Update the App
On Windows, the Zoom app will generally prompt if there is an update available: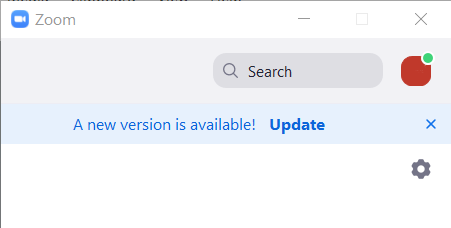 But you can hurry this process along by manually checking.
Open Zoom.
Right-click the Zoom icon in the system tray:

Click Check for Updates.
Follow the process if any updates are available.
Zoom Account: Strong Password
Meeting organisers and participants using Zoom accounts should ensure their Zoom account has a strong, random password that is not used anywhere else.
If managed by Cadzow TECH, use the Cadzow Password Tool to create a password.
Meeting Organiser: Enable Waiting Room, Audio/Screen Settings
The "waiting room" requires the organiser to allow participants into the meeting, even if they have the ID and password.
While in a meeting, click Security and tick Enable Waiting Room: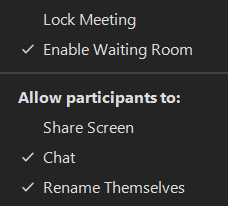 Also check that the video and audio settings are appropriate. For example, in large meetings which are more like "webinars", it is not necessary for participants to enable audio or share the screen. So chat, audio and screen sharing can be turned off.
Meeting Organiser: Recording Transparency
The meeting organiser should advise all participants if the meeting is being recorded and obtain their consent. This should be done in writing when participants are invited, and at the beginning of the meeting.
Meeting Participants: Check Recording
You can check if you are being recorded with a notification in the top left: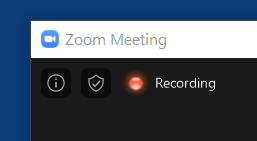 Meeting Participants: Other People Transparency
It is polite to let the other meeting participants know if someone is able to view or listen in on your meeting who is not visible by the camera.
Check Data Centre
Generally, Zoom will run the meeting through a geographically relevant data centre. Users with a Zoom subscription can specify which country they wish to run their meetings through, whereas Zoom meetings conducted with a free account will be routed via a location convenient for the Zoom network. To check how your meeting is being routed, click the Information icon ("i") in the top left: