Changing Network Profiles (Windows 8/8.1)
Whenever you connect Windows 8.x/2012 to a new network, you will be prompted either "Do you want to turn on sharing between PCs and connect to devices on this network" or "Do you want to find PCs, devices and content on the network, and automatically connect to devices like printers and TVs?". This question is equivalent to the previous terminology of a "private" (work/home) network versus a "public" network.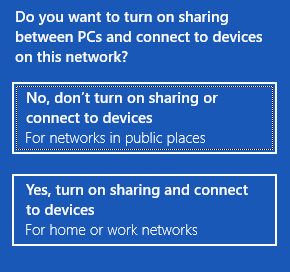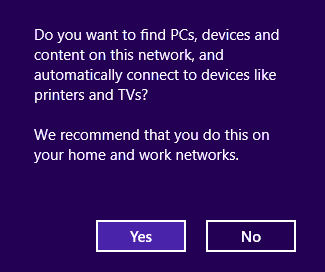 Thus, if you are in a private network at work or home, choose Yes. If in a public network such as a wireless hotspot (café, airport etc), choose No. This ensures that the firewall behaves in an appropriate way for each location.
However if you have selected No in the first instance, this makes it a "public" connection, so many common networking functions are no longer accessible. If not appropriate, change it as follows:
If using Windows 8/8.1 Pro or Windows 2012/2012 R2:
Press Windows Key + R to open the Run dialog.
Enter gpedit.msc and press OK. Accept the prompt to elevate the program.
Navigate to Computer Configuration → Windows Settings → Security Settings → Network List Manager Policies.
In the right-hand pane, right-click the Network in question.
Under Network Location, choose Private or Public as required.
Another technique is (for example if the operating system is not the Pro edition):
Use Registry Editor to browse to:

HKLM\SOFTWARE\Microsoft\Windows NT\CurrentVersion\NetworkList\Profiles

Open the subkey that corresponds to the network (this can usually be guessed easily by the contents of the Description key).
Change the Category as follows: 0 — Public; 1 — Private; 2 — Domain.
The change will take effect in the Network Connections applet immediately, but a reboot may be best if having issues with firewall rules.
See Also