Choose TIMESHEETS. You will get the same screen as above, but the system will know which letterhead to use (ie. The department you loaded).

One page is completed for each time entry. This is a convenient way of having customised note paper for meetings with particular clients. The report header can be altered under MAIN MENU/TIME MANAGER/MISCELLANEOUS SETTINGS.

Each hand written time entry needs to be entered into the Cadzow software. At the base of the page there is a simple tick box to record that this has happened. The originals, if required, can be stored in the client or project folder.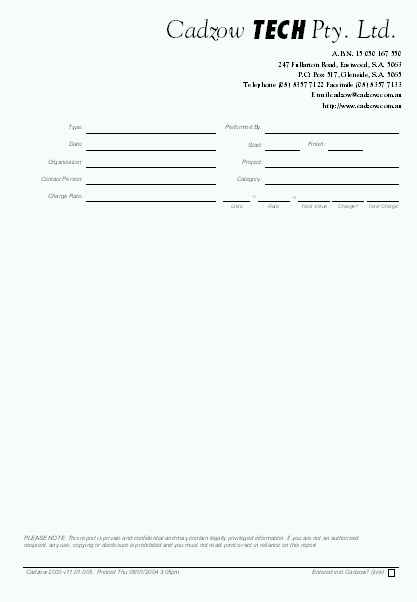 For details on the other choices you have for printing blank stationery, see Article #1155.



Copyright © 1996-2021 Cadzow TECH Pty. Ltd. All rights reserved.
Information and prices contained in this website may change without notice. Terms of use.
Question/comment about this page? Please email webguru@cadzow.com.au